Liebe Patienten, geschätzte Kolleginnen und Kollegen,
Expertise
Physiologie und Pathophysiologie der Nasenatmung
Erkrankungen der Nasennebenhöhlen
Funktionen der Nase
Funktionelle und ästhetische Formstörungen der Nase
Operationen
Nasenplastik in offener und geschlossener Technik (funktionell und ästhetisch)
extrakorporale Septumkorrektur nach Gubisch
konventionelle Begradigung der Nasenscheidewand
Verschluss von Septumperforationen
endoskopische Eingriffe an den Nasennebenhöhlen
Strömungssimulation
Numerische Simulation der Nasenatmung
Visualisierung und Analyse des endonasalen Strömungsfeldes
Beurteilung der Ergebnisse im klinischen Kontext
Erstellung von Gutachten
Zur Person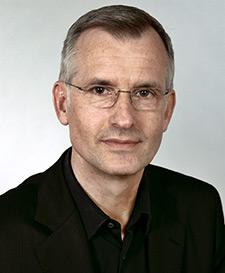 Werdegang
Medizinstudium in Berlin 1984-1990
Ausbildung zum Facharzt für HNO-Heilkunde an der Charité in Berlin bei Prof. Gerhardt 1990-1995
Leitender Oberarzt an der Park-Klinik Weißensee in Berlin bei Prof. Behrbohm 1995-2002
selbständige Tätigkeit am Sana Klinikum Berlin-Lichtenberg 2003-2004
Chefarzt der Sektion Rhinochirurgie, Abt. f. Plastische Chirurgie, Asklepios Klinik in Birkenwerder bei Berlin 2005-2011
Oberarzt an den Oberhavel Kliniken in Hennigsdorf bei Berlin 2011-2013
selbständige Tätigkeit in Zürich und Berlin seit 2013
Gastwissenschaftler am Labor für Biofluidmechanik der Charité seit 2014
Wissenschaft
Im Rahmen des Projektes "Aerodynamik der Nase" besteht eine Forschungskooperation mit dem Labor für Biofluidmechanik der Charité.
Gegenstand der wissenschaftlichen Arbeit ist die Physiologie und Pathophysiologie der Nasenatmung. Wir untersuchen die endonasale Strömungsmechanik.
Dazu dienen in erster Linie Verfahren der numerischen Strömungssimulation. Diese ermöglichen im Gegensatz zu experimentellen Methoden auch die patientenindividuelle Anwendung. Voraussetzung ist lediglich eine Computertomographie der Nase bzw. Nasennebenhöhlen.
Die numerische Strömungssimulation (engl.: computational fluid dynamics, CFD) erfordert folgende Arbeitsschritte:
Rekonstruktion der 3D Geometrie,
Diskretisierung des Strömungsraumes mit finiten Elementen,
die mathematisch-physikalische Modellbildung mit entsprechenden Randbedingungen
und die Berechnung.
Im Ergebnis erhält man örtlich und zeitlich hoch aufgelöste Strömungsparameter, die visualisiert und analysiert werden können.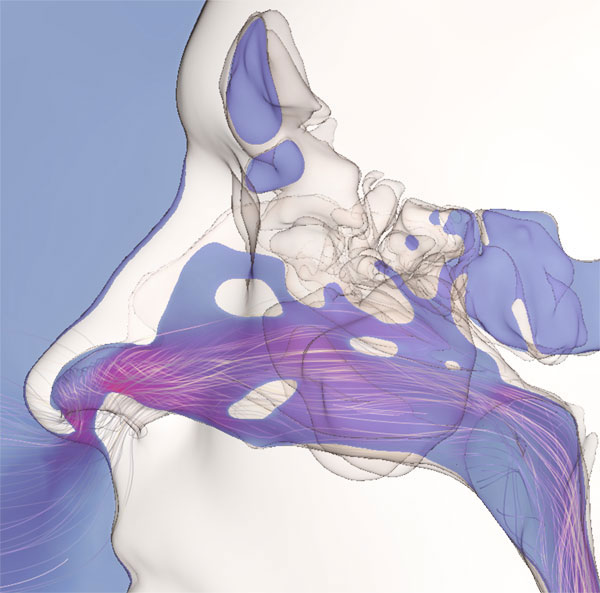 Publizierte Ergebnisse zum Projekt "Aerodynamik der Nase":
Evaluation of the Intranasal Flow Field through Computational Fluid Dynamics
The Concept of Rhinorespiratory Homeostasis – A New Approach to Nasal Breathing
Das Konzept der Rhinorespiratorischen Homöostase – ein neuer theoretischer Ansatz für die Diskussion physiologischer und physikalischer Zusammenhänge bei der Nasenatmung
Visual exploration of nasal airflow.
Understanding nasal airflow via CFD simulation and visualization
CFD Anwendungsbeispiele:
Numerische Simulation der transnasalen Atemströmung, Gutachten für die SUVA
ZUSAMMENFASSUNG: Die Beschwerden des Patienten könnten nach dieser Untersuchung eine objektive Grundlage haben. Unsere Erfahrungen aus diversen durchgeführten Strömungssimulationen lassen vermuten, dass die untypische Isthmusmorphologie für die Probleme des Patienten verantwortlich ist. Obwohl sich daraus keine pathologischen Widerstandswerte der Nase ergeben, resultiert jedoch ein verändertes Strömungsfeld.
Dieses kann unter Umständen auf Grund von ubiquitär in der Nasenhöhle vorhandenen Mechanorezeptoren als atemassoziierte nasale Missempfindung wahrgenommen werden. Ein ähnliches Phänomen ist beim Empty Nose Syndrome bekannt (Elad et al 2006)!
Therapeutisch könnte man den Versuch der operativen Rekonfiguration des Isthmus nasi im Rahmen einer offenen Rhinoplastik erwägen. Die Prognose eines solchen Eingriffs ist jedoch ungewiss. Bisher gibt es keine Studien über den Zusammenhang von endonasalen Strömungsfeldanomalien bei normalem Atemwiderstand und subjektiv gestörter Nasenatmung.
Download PDF
CFD-Analysis of Unclear Nasal Breathing Problems
SUMMARY: Altogether, the results of our clinical examination and the simulation of the nasal airflow, in conjunction with the negative cotton wool test, performed elsewhere, do not support the presumed diagnosis of an Empty Nose Syndrome. The missing turbinates in the analyzed case have, as in general, a minor influence on the inspiratory flow field. The importance of the turbinates seems rather to exist in order to facilitate condensation of the exhaled water. This assumption is derived from comparative animal physiology, CFD-studies of human noses by various authors and not least our own investigations.
In the described case, the resection of the turbinates did not lead to an atrophy of the membranes and a therapy-resistant crusting. Probably, there is sufficient compensation of the diminished condensation.
Although there is still a significant septal deviation, the patient does not specify the postoperative complaints as an typical obstruction-problem. Therefore, we doubt that revision-surgery of the septum would be helpful. We also agree with Dr. ... that there is no clear indication to narrow the nasal cavities.
Download PDF